Scottish Land Court centenary to recall Skye 'battle'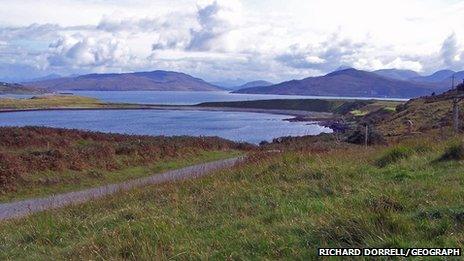 A bloody clash between police and a group of men and women 130 years ago will be recalled during events marking the Scottish Land Court's centenary.
The Battle of Braes in 1882 followed a laird's efforts to evict crofters from land at Braes on Skye.
It was a factor behind the establishment of the land court in April 1912.
The court deals with disputes involving crofters, tenant farmers and also issues about payments they receive.
Its centenary will be marked in events on Skye on Saturday.
Court chairman Lord McGhie and its members will visit the Braes memorial cairn.
Others attending will include Gaelic singer Margaret Stewart.
Her grandfather was involved in struggles over land ownership at Coll Farm on Lewis, in the Western Isles, in 1919.
No Ordinary Court, a collection of essays on the land court's history, will also be officially unveiled during the gathering at the cairn.
The book has a chapter written by Highlands-based Prof James Hunter.
Later, a public lecture will be delivered by historian Prof Ewen Cameron at Portree High School.
Lord McGhie said the court was very aware of its history and origins.
He said: "Our new book No Ordinary Court gives a good deal of insight into that history.
"It is full of human detail, starting with a wonderful chapter from Prof Hunter dealing graphically with the victories of the Skye communities in acquiring rights to security of tenure and fair rents.
"We enthusiastically took up his suggestion of a trip to Braes to mark the Battle of the Braes in 1882."
Lord McGhie added: "Of course, the court is a court of law.
"Our task it to apply the law fairly and judicially. It is the law itself which provides the protection for both crofters and landlords.
"But our centenary is an occasion for acknowledgement of the shoulders we stand on and we welcome this opportunity to recognise the struggles of the crofters to obtain proper rights in law."
The Battle of the Braes saw about 50 police officers, sent from Glasgow to Skye, baton charge a group of men and women trying to prevent police leave the island with a small number of arrested crofters.
The crowd had attacked the officers with stones.
Victorian Gaelic poet Màiri Mhòr nan Òran - Big Mary of the Songs - wrote about the confrontation for one of her best known songs.
Òran Beinn Lì, Song of Beinn Li in English, includes the line: And the gentlest women most graceful in movement, their heads were broken on the braes of Beinn Li.
Stewart will sing the song during the event at the Braes cairn.
Related Internet Links
The BBC is not responsible for the content of external sites.