Capercaillie that chased walkers killed by dog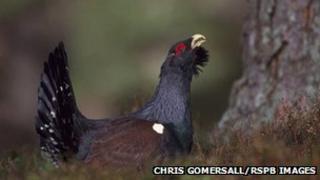 A male capercaillie that chased off walkers and cyclists rather than follow the birds' usual behaviour and shy away from confrontation has been killed.
The large grouse had been on the Rothiemurchus Estate, near Aviemore, for about three years.
Scottish Natural Heritage (SNH) said it was killed by a dog.
In an effort to protect the bird and visitors, the estate designed new signs urging dog owners to keep their pets on a short lead.
Capercaillie became extinct in Scotland around 1785 but was reintroduced, using birds from Sweden, just over 50 years later.
Keith Duncan, Aviemore-based operations officer with SNH, said the Rothiemurchus bird's death was regrettable.
He said: "This bird displayed atypical behaviour by approaching people instead of running or hiding as capercaillie normally do, and in this case was killed by a dog.
"We asked last year that visitors keep to the paths and heed local signs and guidance, and this incident makes this advice all the more important this year.
"This time of year is especially sensitive for capercaillie as the males are preparing to attract a female on their leks, so we would ask that people who want to see a capercaillie go to the nearby Osprey Centre at Loch Garten to witness typical behaviour."
Johnnie Grant, of Rothiemurchus, described the incident as a "great shame".
He added: "This year the behaviour of this lone male was much more aggressive and he was seen chasing and attacking people and bikes.
"So Rothiemurchus designed new signs, making it clear to owners to keep their dogs on a short lead in sensitive areas to enable wildlife to breed in peace."
Minister for the Environment Stewart Stevenson said: "The unfortunate death of this particular bird highlights the need for dog owners to follow the Scottish Outdoor Access Code at all times by keeping their dogs under control especially at this time of year in those areas that may contain breeding and nesting birds, as well as other vulnerable wildlife."