Endurance runners take on horses in new Loch Ness event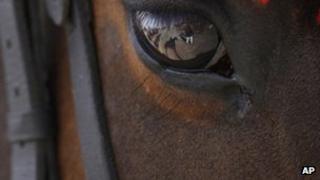 Endurance runners are to take on horses and their riders in a new race on the southern shore of Loch Ness.
The South Loch Ness Man vs Horse Challenge will be held over 16 miles (26km) on the 5 May.
Thirty spaces are available for runners and the event will be held under Scottish Endurance Riding Club rules. A vet will monitor horses' fitness.
Starting at Foyers Pier, the race includes parts of the Trail of the Seven Lochs and South Loch Ness Trail.
Competitors will climb a trail dubbed the Corkscrew beside the crag of Dun Deardail before tackling the Fair Haired Lad's Pass and finishing at Dores.
Organiser Candy Cameron, of Loch Ness Riding, said: "This event offers a unique opportunity for people to discover the lesser known side of the loch, while enjoying their own favourite active pursuit.
"The challenge is a great way for runners and riders to learn more about all that South Loch Ness has to offer them - and making it competitive adds a little excitement for everyone."
The race has support from South Loch Ness Tourist Group and Destination Loch Ness.
Prices up for grabs include the Jacobite Warrior Trophy for the fastest overall competitor.