Study results into gas leak on North Sea Elgin platform expected on Wednesday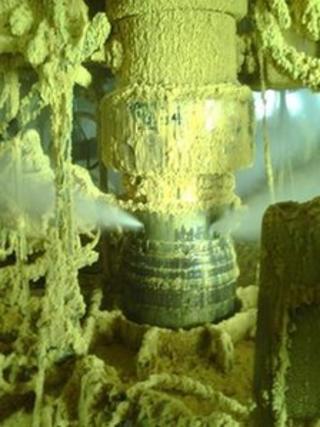 The results of a study into the environmental effect of the Elgin platform gas leak are expected to be released by the Scottish government on Wednesday.
The research vessel Alba na Mara spent the weekend at sea taking samples.
A team of scientists from the Scottish government agency Marine Scotland were on board and have been analysing the results.
Total have said they are working on plans to stop the leak.
A team from the operators flew out to inspect the leak last week and propose to plug the well with mud in a strategy nicknamed "dynamic kill".
Specialist equipment arrived in Scotland on Friday after being flown in from Houston, Texas.
Final results and full analysis of seawater from the area could take up to a week.
The Scottish government has already said it expects the environmental impact of the gas leak to be minimal.
Meanwhile, the credit ratings agency Fitch has warned the Elgin gas leak incident could have wide-ranging financial consequences for companies operating in the North Sea.
Fitch said the European Commission was likely to push for stricter licensing and safety requirements.
Last week, Total attempted to reassure investors and environmental activists that the financial and environmental damage from the leak would be limited.
However, environmental group Greenpeace has sent a boat to the area to take its own air and water samples.
It said its tests would reveal in the coming days how damaging the leak has been to the environment and wildlife in the area.
Gas started leaking just over two weeks ago and the platform was evacuated.