Toxic Dounreay liquid metals neutralised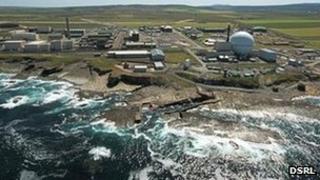 Some of the most toxic and dangerous material left at the Dounreay nuclear reactor has been neutralised.
A purpose-built plant has processed the last of 57,000 litres of liquid metal at the Caithness site.
The toxic alloy of sodium and potassium was used as a coolant in the experimental fast breeder reactor.
The reactor, which is being decommissioned, was built in the 1950s and was one of only two ever built in Britain to run on liquid metal.
In September 2007, the first of a total of 354 batches of the alloy was lifted from the reactor's primary circuit.
Each batch then underwent a chemical neutralisation process.
The Dounreay decommissioning team removed a thousand trillion becquerels of caesium -137 from the mix of highly radioactive chemicals.
The Nuclear Decommissioning Authority (NDA) said it was "extremely pleased" the liquid metal no longer posed a hazard.
Nigel Lowe, head of the NDA's Dounreay programme, said: "This was very high on the list of hazards we wanted reduced across our whole estate.
"It's a significant achievement for Dounreay and joins a long list of examples whereby the site has delivered on key objectives and technical challenges."
Andy Swan, the engineer in charge of the reactor decommissioning, said: "The chemical and radiological hazards combined to make this a real danger to the workers involved, so we needed to be certain they were protected at every step of the process until the hazard was destroyed."
The work to process the liquid metal has been completed a year ahead of schedule.