New polar bear and tiger for Highland Wildlife Park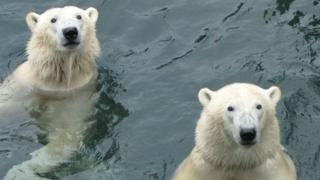 The UK's only polar bear in a public zoo is to be joined by another male later this week.
Three-year-old Walker has been at the Highland Wildlife Park, near Kincraig, since December 2010.
He is not old enough to mate so the Royal Zoological Society of Scotland (RZSS) is bringing in a four-year-old male for company.
A new young male Amur tiger is also expected to arrive at the park on Wednesday.
Last month, an aged female Amur tiger at the park was put down after her health started to fail and she began exhibiting odd behaviour.
Sasha had three cubs at the Highland Wildlife Park in 2009 and shared an enclosure with the litter's two females.
Her long-time mate Yuri was put down in 2010.
New tiger Marty, a two-and-half-year-old, is to arrive in Scotland from Olomouc Zoo in the Czech Republic.
RZSS staff hope he will he breed with one of Sasha's cubs, Dominica. Her sister Natalia is to go to Lisbon Zoo, in Portugal.
Arktos, the Highland park's new polar bear, previously shared an enclosure with his brother Nanuq at Hannover Zoo in Germany.
Douglas Richardson, Highland Wildlife Park animal collection manager, said: "Arktos is a little older than Walker and slightly bigger, but we have high hopes that the playful bear duo will get on with each other when they are eventually introduced.
"Male immature polar bears tend to respond well to each other and it will be great if they do as Walker desperately needs a wrestling partner.
"Arktos will have a period of settling-in to his new surroundings, in a holding enclosure next to Walker, so both boys will be able to catch the scent of one another and they'll know they have company next door."
Mr Richardson added: "In the future a female breeding partner will be sourced for the males, but both still have a few more years to go before they are sexually mature. At this stage a second polar bear enclosure would be constructed."