New Conon Bridge railway station 'could open soon'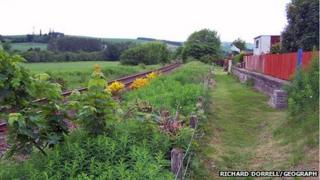 Design work is expected to start soon on a new railway station for Conon Bridge in Ross-shire.
Highlands and Islands Transport Partnership (Hitrans) and Network Rail have signed a deal on the project.
Hitrans, which will provide £100,000 towards the work, said it should mean the new platform could open soon on the Far North Line.
A station had served Conon Bridge from 1862 until 1960 when it closed to passenger services.
Goods services were withdrawn from the station in 1965.
"Much needed"
Hitrans said the new platform would be able to handle four rail cars, the maximum length of ScotRail trains on the Far North Line.
The deal announced at the organisation's rail seminar in Inverness will prepare the project for the tendering of its construction contract.
The agreement comes 10 years after a new station was opened in nearby Beauly.
Hitrans director Dave Duthie said a platform at Conon Bridge would be used by people who travel to work in Inverness and also by tourists.
He said: "With the support of the rail industry and the local community this much needed railway station can be constructed and opened quickly as planning consent is already in place.
"We will be investigating all potential sources of funding for the capital works."
Hitrans said Beauly's station handled more than 50,000 passengers a year.
Conon Bridge's station is forecast to handle 36,000 passengers per annum, with expectations that the number of users will grow.