Homes evacuated due to heath fire near Beauly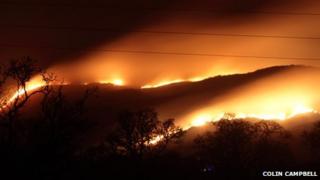 A number of homes in the Highlands had to be evacuated as firefighters fought a wildfire that was spreading towards them.
The blaze, at Aigas, near Beauly, broke out just after 21:00 on Thursday.
Firefighters from Highlands and Islands Fire and Rescue Service had to dampen down the area around the houses.
Nine fire appliances were still at the scene on Friday morning and a helicopter water bombed the flames. The fire has since been put out.
On Thursday, a stretch of the A9 in Sutherland was closed temporarily while firefighters dealt with a moor fire.
In just over a week, Highlands and Islands Fire and Rescue Service said crews have been called to deal with 107 wildfires most of them caused by muirburning which has got out of control.
The service has asked landowners to ensure there were sufficient personnel around to manage any muirburning.