CairnGorm Mountain ski resort in 'summer mode'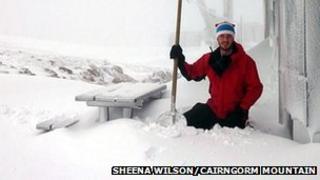 A Scottish snowsports centre is switching to "summer mode" a month earlier than usual because of a disappointing winter season.
Colin Kirkwood, of CairnGorm Mountain, said it was almost unheard of for the resort not to be able to offer skiing during the Easter school holidays.
Earlier this week,Scotland broke the record for its highest-ever March temperature.
Mr Kirkwood said it was glorious weather for walking, but not skiing.
CairnGorm Mountain along with Scotland's four other snowsports centres had been gearing up for a good season following two previous bumper winters.
In 2010, slopes stayed open in the Cairngorms into early June.
Snow fall in that month resulted in the 2009-2010 season being the best in 14 years for Scottish skiing.
The 2010-2011 season started early on 13 November.
But days after that date in November 2011, CairnGorm, Glencoe, Glenshee, Nevis Range and The Lecht were still waiting for the first heavy snow.
There had been promising signs of good skiing in October last year and a member of CairnGorm Mountain's staff was pictured in a waist high drift at the centre's Ptarmigan station.
However, the snow melted within weeks.
Mr Kirkwood told BBC Scotland: "It is almost unheard of to not be skiing in March and as a result of that we have had to lay off our seasonal staff a lot earlier than we would normally.
"There is no guarantee of skiing in Scotland at any particular time, but Easter is a time when we would expect to be skiing."
He added: "We are more or less into summer mode a month earlier than we would normally expect."
Guided walks from the top station of the Cairngorms' funicular railway will start a month early on 1 April.
Mr Kirkwood said: "We've had glorious conditions - not skiing conditions - but certainly for walking in the last week."