Risk of wildfires 'high' warns Cairngorms National Park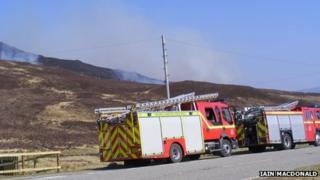 The Cairngorms National Park Authority (CNPA) is warning that wildfires pose a "real danger" to people and wildlife as dry, warm weather continues.
It said a serious blaze was dealt with in the park by South Grampian Wildfire Group and fire crews last week.
CNPA said the Met Office fire severity index had warned of "very high fire conditions" for parts of Scotland.
Wildfires have also been affecting the Highlands, Dumfries and Galloway and the Borders.
Some fires in the Highlands and Islands have been legitimate muir burning, but fire crews have also been tackling wildfires across the area.
CNPA said: "The extended dry and very warm weather means there is a real danger of wildfires in the Cairngorms National Park, putting people, habitats and wildlife at great risk."
Michael Bruce, of Glen Tanar Estate and chairman of the South Grampian Wildfire Group, added: "The risk of wildfire is very high just now, the grasses and heather are very dry.
"Although this fire was small it had big flames and was extremely dangerous.
"It was a warning. So I would urge all visitors to the countryside to be both careful and vigilant."