March temperature records broken again in Scotland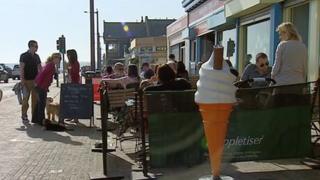 Scotland has set a new record for the highest ever March temperature for the third day in a row.
Aboyne in Aberdeenshire recorded 23.6C at 15:30 on Tuesday, beating the record of 23.2C set at Cromdale, near Grantown on Spey, the previous afternoon.
On Sunday, Fyvie Castle in Aberdeenshire recorded 22.8C, beating a March temperature record which had stood for 55 years.
Before last weekend, the record March temperature in Scotland stood at 22.2C.
It was recorded in 1957 at Gordon Castle, in Moray, and again at Strachan, in Kincardineshire, in 1965.
The average daytime temperature for March is usually about 10C.
The north and north east of Scotland were again the hottest part of the country on Tuesday.
Fyvie Castle recorded 22.5C on Tuesday lunchtime, Aviemore in the Highlands was 21C, Braemar in Aberdeenshire was 21C.
Further south Leuchars in Fife recorded 20.9C and Edinburgh Gogarbank 20.5C.
The temperature in Aboyne was hotter than the readings in Athens, Bermuda, Cairo, Lisbon and Rome at 12:00 on Tuesday.
A number of areas saw their highest ever March temperature on Monday, including Aviemore (22.3C), Wick in Caithness (19.5C) and Kirkwall on Orkney (18.7C).
Records were also broken across southern and central Scotland on Monday, with Strathallan in Perth and Kinross and Charterhall in Berwickshire both recording 19.8C.
The weather station at Bishopton in Renfrewshire, which records temperatures for Glasgow, broke its March record on Sunday at 19.5C and was close to equalling that on Monday.