Lochhead raises tug cover concerns with UK government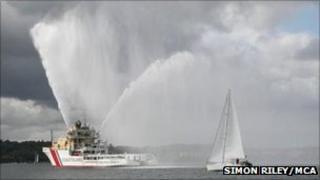 Environment Secretary Richard Lochhead has written to the UK government voicing concerns over the removal of an emergency towing vessel from Stornoway.
He has sought assurances from UK Transport Minister Mike Penning that arrangements for the Western Isles will be brought forward urgently.
He said the Anglian Monarch was removed from its station last Saturday without any formal notice.
Mr Lochhead said it was "unacceptable" that no alternative cover was in place.
Just two days later the Anglian Sovereign coastguard tug, which normally covers Orkney and Shetland, had to be sent to assist in the escort of a cargo ship to Lewis after it ran aground.
The Anglian Sovereign was also due to have been withdrawn from service earlier this week but was given a last-minute reprieve to allow an agreement over cover to be reached.
'Completely unacceptable'
Talks are still ongoing between the UK government and the oil and gas industry about how future cover for the Northern Isles might be provided and funded.
Mr Lochhead said: "The Scottish government has had regular and positive engagement with the Scotland Office to work towards a long-term solution for emergency towing vessel (ETV) cover in our waters.
"However, I was surprised and disappointed that the ETV based at Stornoway has been withdrawn without any alternative arrangements in place.
"Within 48 hours of the Stornoway tug's removal, the grounding of the MV Flinterspirit in the Minch was a clear reminder of the risks faced by shipping in this complex and environmentally-sensitive stretch of water.
"It's completely unacceptable to leave this area without ETV cover."
He added: "The UK government has to accept the near universal view that there is no viable commercial alternative to emergency tug cover for the Western Isles - provision must be reinstated as soon as possible.
"Similarly, while we are pleased at the positive engagement with Oil and Gas UK towards a solution for the Northern Isles, it's imperative any transition to a new arrangement does not involve any gap in ETV provision.
"We will continue to push the UK government to fulfil its responsibilities in this matter.
"The safety of human life and the marine environment must come before budgetary constraints."