Heath fires tackled across Highlands and Islands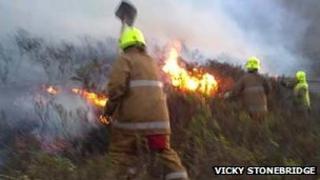 Firefighters have tackled almost 20 grass and moor fires across the Highlands and Islands in the past week.
Crews from Inverness, Bettyhill, Stornoway, Wick, Benbecula, Bonar Bridge, Thurso and Nairn were called out between Monday and Friday.
The fires have come during a prolonged dry spell.
Hundreds of acres of land was burnt in wildfires in the Highlands last year, with 332 acres over the space of a few days in May.
Landowners contributed more than £1m towards the cost of the fire fighting in 2011.
Parts of Aberdeenshire, Argyll and Fife were also affected last year.
Crews tackled flames on the Balmoral Estate in Aberdeenshire, while smoke from a fire near Tyndrum temporarily closed the A82 in Argyll.
The north-west Highlands, including Torridon, was the worst hit.
Camp fires
The wildfires were also deemed to have had an impact on ecology and soil quality.
Ecologist Angus Jackson said food chains and the chemistry of soils, such as peat, had been threatened.
Following this week's incidents, Highlands and Islands Fire and Rescue Service (HIFRS) appealed to the public to help prevent the outbreak of fires.
People setting camp fires have been asked to make them on a cleared earth site away from vegetation.