Report on Aquila fishermen's deaths in Highlands released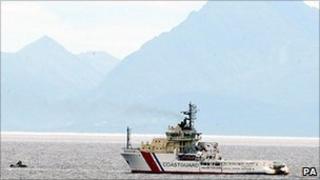 A sheriff has said three fishermen were still likely to have perished even if there had not been a delay in the official rescue effort.
Scallop dredger the Aquila overturned near Kilmory, in Ardnamurchan, in 2009.
Skipper Tony Hayton, 45, died along with Peter Hilton and Thomas Sanderson, both aged 52. Tim Rowley, 33, also from Maryport, in Cumbria, survived.
An inquiry into their deaths heard there was a 23 minute delay in getting a rescue helicopter to the scene.
The Aquila snagged its gear on the seabed and capsized so quickly that skipper Mr Hayton did not have time to raise the alarm.
A member of the public who saw the incident from a nearby road alerted the emergency services.
Training review
The fatal accident inquiry heard the 999 call was put through to Clyde Coastguard Station.
The station's watch manager believed Kilmory was one of two places with that name in Argyll.
R177, a Royal Navy helicopter at Prestwick in Ayrshire, was scrambled then stood down when the coastguard officer established it was Kilmory in Ardnamurchan, which is covered by Stornoway coastguard on Lewis, in the Western Isles.
However, Stornoway coastguard did not scramble its helicopter immediately because the station had not been told the Navy crew had been stood down.
In his newly-published determination, Sheriff Paul Crozier said the Royal Navy crew should have been left to head to the scene.
He has recommended a review of training for coastguard personnel and that air rescues be co-ordinated by the Aeronautical Rescue Co-ordination Centre at Kinloss and not individual coastguard stations.
Sheriff Crozier said there was nothing the skipper or his crew, all experienced seamen, could have done to avoid the accident.
He said: "Not withstanding all of the issues raised by me as a result of this inquiry it is not possible to conclude on the basis of the evidence led that even if the initial tasking of R177 had not been cancelled and that all of the other matters raised had been dealt with correctly, that the lives of Mr Sanderson, Mr Hayton and Mr Hilton could have been saved."
The sheriff went on: "Fishermen risk their lives on a daily basis to put food on our plates, their job is an extremely dangerous one and I am full of admiration for the way in which they conduct themselves in carrying out their work.
"This tragic event led to the loss of three fishermen's lives.
"There was a survivor, Timothy Rowley, and it would be remiss of me not to commend him for the actions that he took on the 20 July 2009 and the way in which he relived that day in giving evidence to this inquiry."
Sheriff Crozier praised members of the public who played parts in raising the alarm and rescuing Mr Rowley.