Alex Salmond launches Nigg Skills Academy in Easter Ross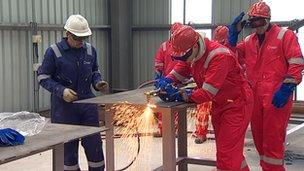 The first minister has launched the Nigg Skills Academy, a public-private sector partnership aimed at bringing thousands of jobs to Easter Ross.
The pilot project is based at the Nigg yard which this week won enterprise area status in the UK budget.
First Minister Alex Salmond officially unveiled the academy offering training in fabrication work.
Last week, work started on the yard's first oil rig refurbish contract in nine years.
The academy aims to start 290 modern apprenticeships (MAs) in its first year and to provide both MAs and general training for 3,000 people by 2015.
Training will cover jobs such as engineers, operators, riggers and technicians.
More than £900,000 of public money has been put towards the initiative.
Mr Salmond said: "Nigg has one of the world's largest dry docks and its workforce has been responsible for some of the biggest energy-related structures ever built, so it is well positioned to host the skills academy pilot.
"I'm delighted to meet some of the first recruits and to be able to congratulate Global Energy and the various agencies involved for establishing this innovative facility just five months after the purchase of the Nigg site."
The yard, which was built on the Cromarty Firth in the 1970s, is being brought back into use by Global Energy Group, who took it over last October.
Offshore platforms were constructed and refitted at Nigg at the height of the North Sea oil and gas boom, but it has stood largely empty since 2002.
Transocean's GSF Galaxy I arrived last week for a revamp involving 250 workers.
It will take about three months to refit the harsh environment deep water jack up rig.
Global Energy purchased Nigg from KBR and the Wakelyn Trust for an undisclosed fee after the yard was offered for sale in 2005.
The firm intends to develop the 238-acre (96.14 hectares) site as a service hub for the energy industry, and expects to employ 2,000 people by 2015.
Related Internet Links
The BBC is not responsible for the content of external sites.