Ptarmigan 'exposed' by mild winter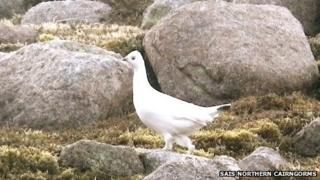 Grouse with plumage that turns white in autumn have been easier to spot because of the milder winter.
Several ptarmigan have been photographed on snow-free mountainsides in the Cairngorms.
Ptarmigans' transformation between grey, brown and black plumage to white is triggered by changes in daylight and cannot be controlled by the birds.
Stuart Benn, of RSPB Scotland, said ptarmigans may have been "caught out" by the lack of snow this winter.
The conservation manager said: "A number of people have told me they have been seeing ptarmigan.
"The mild weather has its advantages and disadvantages.
"It should mean more insects for young birds, but the downside is those that have not lost their winter plumage can be left exposed.
"For predators like golden eagle and peregrine it makes the ptarmigan easier to take as they crowd into smaller patches of snow-covered ground, or move between those bits of snow."
Photographs of ptarmigan exposed against bare, snow-free mountainsides have been captured by Sportscotland Avalanche Information Service (SAIS) forecasters in the northern and southern Cairngorms.