'Progress' at Highlands and Islands Fire and Rescue Service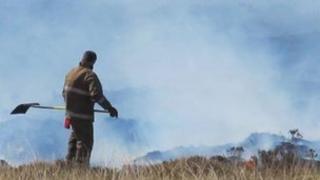 A fire service criticised for how it was run and the level of training for its crews has made significant progress, a senior officers has said.
In a report published last week, the Accounts Commission said it had serious concerns about Highlands and Islands Fire and Rescue Service (HIFRS).
Newly-appointed deputy chief fire officer Stewart Edgar said plans were in place to overcome HIFRS' problems.
He said the service recognised the public deserved better.
In a statement, HIFRS said leadership of the service had been realigned to ensure it had an efficient and effective structure that was focussed on the safety of firefighters and communities.
Mr Edgar said significant progress had been made in training firefighters and the public would benefit from crews' increased skills, knowledge and professionalism.
He said: "There are many good people in HIFRS and we are all trying very hard to deliver an effective and efficient service to all of our communities.
"We are currently overcoming some serious legacy issues, however, the public should be reassured that there are many positive aspects to the service and we continue to excel in responding to emergencies."
The Accounts Commission said there was an urgent need for HIFRS to be run in a way that reflected the area it covered.
It said doubts remained that its fire board had the "appetite" for "difficult decisions".
Fire board convener Richard Durham said last week that action had already been taken to address the problems in the service.