Legal move in Western Isles school closure row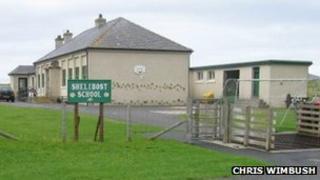 Western Isles Council has launched a legal challenge against the Scottish government's opposition to its plans to shut four schools.
Comhairle nan Eilean Siar has sought a judicial review of the government's decision to overrule the closures.
The comhairle said it could not afford to keep open Carloway and Shelibost primaries and continue S1 and S2 education at Shawbost and Lionel.
Scottish Ministers are contesting the legal action at the Court of Session.
Plans to close the schools were called in by the government last year.
The comhairle claims the government erred in law and failed to apply its mind to the right questions.
Scottish Ministers maintain they acted reasonably and in accordance with their obligations under the Schools (Consultation) (Scotland) Act 2010.
James Wolffe QC, for the comhairle, said it appeared that the provisions in the legislation had not previously been the subject of judicial consideration.
Mr Wolffe said the move came against a background of falling school rolls and limited funding.
Under the act an education authority proposing to shut a rural school has to have special regard to any viable alternative to the plan, the likely effect on the local community and the likely impact of different travel arrangements.
Viable alternative
In the case of Shelibost ministers concluded that insufficient consideration had been given to alternatives and that the consultation process was flawed.
But the local authority said that in issuing the call-in notice minister did not addressed whether keeping the six-pupil primary open was a viable alternative to the closure proposal.
It claimed ministers did not rationally conclude that the comhairle had failed to comply with the requirements placed on it by the act and could not lawfully issue a call-in notice.
The comhairle said school rolls in its area have been falling for the last 30 years and there were too many schools for the size of the pupil population.
It said that many of its schools were costly to maintain and that spending relative to pupil numbers was very high.
West Harris Trust had urged the comhairle to delay closing Shelibost to give it time to attract new families into the area, the court heard.
The trust suggested a five-year moratorium on closure to see if the school could become sustainable with more pupils attending.
But the comhairle said in the action that it had concluded that the economic benefits and repopulation by young families anticipated by the trust was "unlikely to be realised".
Scottish Ministers maintain in their response that the 2010 Act "introduces a presumption against the closure of rural schools".
The hearing before Lord Brailsford continues.