Scottish Wildlife Trust builds £50,000 loo on Handa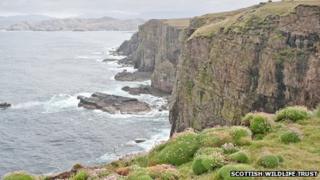 A public toilet is being built at a cost of £50,000 on a tiny isle that is uninhabited for six months of the year.
The loo on Handa off Scotland's north west coast is being constructed in such a way that it can withstand gale-force winds and be eco-friendly.
The Scottish Wildlife Trust (SWT), which manages the isle, said it was needed for about 6,000 birdwatchers who visit over spring and summer.
The island now has a small bothy and toilet for volunteers and SWT staff.
However, the facilities cannot cope with the annual influx of birdwatchers.
The foundations for the new toilet need to be two metres (7ft) deep to stop it from blowing into the Atlantic.
Sprinkling sawdust
With no running water on the island, people who use it will sprinkle sawdust after a visit. It will be cleared out every two years.
Highland Council and the Scottish government have contributed towards its cost.
Handa has about 100,000 seabirds, including 250 pairs of puffins.
Great skua are another popular species with ornithologists, but are known to dive bomb people and attack other seabirds.
Handa lies three miles (4.8km) off Sutherland's coast and is about 763 acres (309 hectares) in size.
Rock climbing as a hobby and a sport is said to have started on the island. Three men from Lewis, in the Western Isles, ascended its Great Stac in 1876.