Highland Council wants Dounreay 'exotics' moved by rail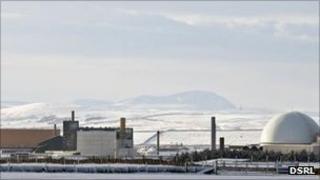 A plan to move nuclear fuel from Dounreay in Caithness to Sellafield in Cumbria should involve rail transport, a local authority has said.
The Nuclear Decommissioning Authority (NDA) has still to determine the mode of transport for material which is classed as "exotics".
It includes fuel containing highly-enriched uranium.
Highland Council said moving such material by rail would be safer than by road.
The distance by road from Dounreay to Sellafield is about 416 miles (670km).
Trains would also have to cover a long distance but Highland Council said taking nuclear material by rail had a proven safety record.
In a report to councillors, council officials said: "Travel by road over longer distances is unlikely to be supported unless significant investment in infrastructure was to be agreed."
The material would require to be moved by road from Dounreay to Georgemas, the closest available rail head for loading it on to a train.
The council officials said: "In recognition of the need for road transport over the short distance, the NDA should be encouraged to consider investing savings in infrastructure that would support wider socio-economic aims in Caithness and North Sutherland such as the Thurso bypass."
The NDA has previously said the "exotics" could be moved in up to 60 journeys over six years starting sometime in 2014 or 2015.
It would prefer to handle the material at Sellafield rather than have to build new facilities to treat and store it at Dounreay, which is the subject of a demolition and clean-up project.