Police warn of roof running prosecutions in Nairn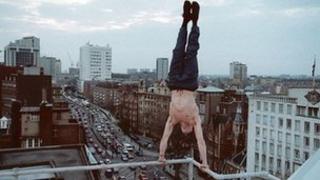 Police have said teenagers running and jumping across roofs in one of the oldest parts of Nairn, near Inverness, face prosecution.
Northern Constabulary said calls about the activity in Fishertown had been on the increase.
But the force's description of the behaviour as free running has prompted a response from the sport's national body, Parkour UK.
It said it was wrong to label the teenagers' actions as Parkour.
Boys taking part in the activity in Nairn have reportedly been running and performing stunts on flat roofs and buildings in the area.
Officers have stepped up patrols in Society Street and Millbank Street.
In a press release, police said they were becoming "concerned at the new craze of street running or Parkour".
Insp Murdo MacLeod said the problems in Fishertown had been raised with Nairn Academy.
He said: "Calls of this type of behaviour have been on the increase and are mainly directed towards local teenage boys."
Insp MacLeod said that in addition to the annoyance caused to residents, there were "obvious dangers" of those involved causing damage and seriously injuring themselves.
The officer added: "Unfortunately, advice is not being taken on board so this leaves police to deal with the matter by way of potential criminal prosecution."
Eugene Minogue, chief executive of Parkour UK, said free running was being misrepresented.
He said it was a sport, discipline and art with recognised qualifications attached to it.
Mr Minogue has offered to meet Northern Constabulary.
He said: "Parkour/free running is a sport that needs and requires the same dedication, discipline and attention as other sports.
"Unfortunately Parkour/free running is often misrepresented in the media and via the internet, especially by young people, who believe that what they are doing is Parkour/free running, when this is not the case.
"It is our role to break this misrepresentation."
Parkour featured in a 2002 channel promotion called Rush Hour for BBC One and in a chase scene for James Bond film, Casino Royale.