Transport Scotland in talks on Skye's Eilean Bàn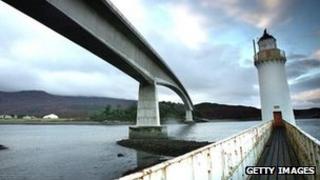 A small island where the author of otter story Ring of Bright Water once lived is the subject of discussions about who should own it.
Transport Scotland owns Eilean Bàn, which lies beneath the Skye Bridge, but said it no longer required the land.
The late Gavin Maxwell lived on the island and was inspired by its wildlife, which include otters.
SNP MSP Dave Thompson has sought assurances that Eilean Bàn Trust is involved in the discussions.
The trust promotes tourism on the island and works to protect and conserve its wildlife and lighthouse, which was built in 1857.
Thomas Stevenson, father of Treasure Island author Robert Louis Stevenson, was involved in designing the lighthouse.
Transport Scotland said another public agency could take over Eilean Bàn - which means White Island in English.
A spokeswoman said: "We recognise the importance of Eilean Bàn and our first steps will be to talk to other government departments and agencies, including Scottish Natural Heritage and Historic Scotland amongst others, who may be interested in taking over ownership of the island.
"Whilst the land is no longer required by Transport Scotland, the Eilean Ban Trust's current lease runs until 2015 and any subsequent owner would have to honour that lease."