New firing range planned for Dounreay-based police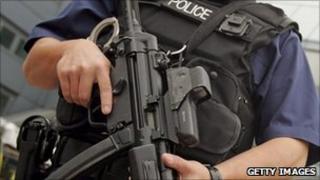 A new £1.6m firing range has been proposed for Civil Nuclear Constabulary officers at Dounreay in Caithness.
The armed police provide security for the nuclear power site.
Dounreay Site Restoration Limited (DSRL) said the officers' current firearms training facility no longer met modern standards.
The new range is planned at the nearby Forss Business Park and the cost would be met by the Nuclear Decommissioning Authority.
Dounreay is expected to be demolished and cleaned up by about 2025, but would remain out of bounds to the public for 300 years after that.
Last year, noise from the current firing range raised what DSRL described as a rare complaint from the public.
DSRL suspected the demolition of buildings on the site had removed a buffer to shots on the range.
The company said weapons used by the constabulary had not changed and suspected the loss of buildings that had screened the range had resulted in the complaint.