Disney film soundtrack singer Julie Fowlis for HebCelt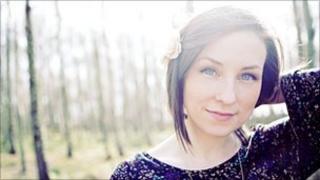 A Gaelic singer who features on the soundtrack of new Disney/Pixar film Brave will appear at this summer's Hebridean Celtic Festival.
Dingwall-based Julie Fowlis will show her film and musical work, Heisgeir, at the Western Isles festival.
Her song Tha mo ghaol air àird a' chuain - My love is on the high seas - features on Brave which is to be released in cinemas in August.
Lanarkshire-born composer Patrick Doyle has composed Brave's musical score.
Fowlis, who is due to give birth to her second child in the next few weeks, has performed at HebCelt previously and is an inductee in the festival's hall of fame.
Her own film was inspired by the Heisgeir islands off North Uist which were abandoned in the 1940s. The singer's great great grandmother had lived on the islands.
It features musicians Éamon Doorley, Ross Martin and Duncan Chisholm and was commissioned for last year's Gaelic Blas festival.
She said: "Very often I have ideas for things in my head that I would like to do, but you need someone to give you a chance to do it and, more importantly, a deadline.
"With Heisgeir we were given that chance and knuckled down and did the research and filming in a few months.
"The family connection was one of the reasons I was interested in it.
"Also, when you look out from the west coast of North Uist you can see Heisgeir and it just seemed ridiculous that it was so close yet I knew so little about the place, its history, its songs."
She added: "I wanted to learn more about it and it was a very inspiring place to visit.
"I went there twice in the summer and it was wonderful to try to convey the magic of the place through this project."
Now in its 17th year, HebCelt will be headlined by The Waterboys, The Proclaimers and Kassidy.