'Tough decisions' for Highlands and Islands Fire and Rescue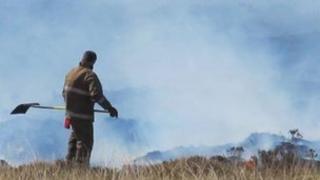 A move to a national Scottish fire service may mean tough decisions on the Highlands and Islands' brigade will not be taken, a new report has warned.
The Accounts Commission said it had serious concerns about Highlands and Islands Fire and Rescue Service.
It said there was an urgent need for the brigade to be run in a way that reflected the area it covered.
But the commission said doubts remained that its fire board had the "appetite" for "difficult decisions".
Fire board convener Richard Durham said action was already being taken to address the problems in the service.
The Accounts Commission's warning is contained in a report on a Best Value audit of HIFRS.
The commission said it recognised the low numbers of casualties and fires in the HIFRS area, which includes the Highlands, Western Isles and Northern Isles.
It also acknowledged there were challenges in covering the largest geographic area of Scotland's eight fire services, and also the "marked improvements" in leadership in recent years.
However, the commission said HIFRS was unable to show how it matched resources to community risk.
HIFRS has one full-time station, which is in Inverness, 95 part-time retained stations and 23 community response units.
The Accounts Commission said this model reflected "historic factors" rather than strategic.
Spending backlog
HIFRS' workforce almost doubled in size in 2004, but the commission said the service has had "limited success" in training its firefighters to an appropriate level.
And while 30 new fire stations have been built and money invested in new engines, the commission said there was a capital spending backlog of £17m, and 35 stations have been identified as requiring upgrades.
It has been suggested the move to a single national fire service for Scotland by April next year may be acting as a distraction to resolving HIFRS' problems.
In the report, the commission said there was "growing awareness" among fire board members to the need for change.
It added: "However, given the prospect of a national fire and rescue service being established by 2013, doubts remain about the appetite of members to now take these difficult decisions."
Earlier this month, HIFRS said all its firefighters were to have training that meets national standards.
Service bosses met with the fire board and unions to discuss a way forward after health and safety concerns were raised by staff.
HIFRS said a comprehensive plan will be put in place to ensure all its firefighters have appropriate training.
'Actively addressing'
Mr Durham said: "The board recognises the issues raised and continues to work closely with Highlands and Islands Fire and Rescue Service to assess the sustainability of fire stations and to put in place a plan that takes us forward in a manner that best serves our communities in the future.
"I am pleased that the report recognised that improvement in Service leadership has been achieved over the last two years and that the board are now in a position to make more informed decisions."
HIFRS chief fire officer Trevor Johnson is on sick leave.
Deputy chief fire officer Stewart Edgar said: "We are actively addressing all of the issues within the report and are concentrating our efforts on community and firefighter safety.
"Our Safer Firefighter Programme is well underway and will ensure that the firefighters across the area achieve the national standards."
Fellow deputy chief officer Mike Holme added: "We are also currently working on a model which will match resources to the risks within our communities and develop the service to meet the challenges presented in the report.
"It is our aim to ensure the sustainability of fire and rescue provisions within the Highlands and Islands whilst meeting Best Value principles."
The Accounts Commission's comment on a single fire service have been followed by concerns about the new set-up from the Scottish Human Rights Commission.
It said the Bill to introduce national fire and police services did not include any reference to human rights.
Chairman Prof Alan Miller said this was regrettable.