Strome car ferry Glenachulish breaks down ahead of Keith Brown visit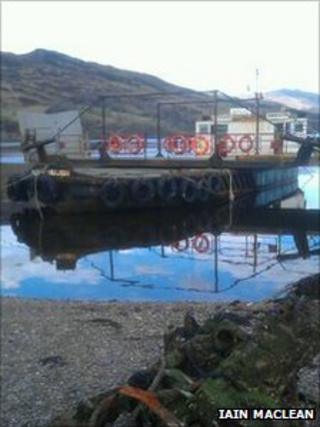 A car ferry that had been helping to ease travel in part of the Highlands after a road was shut has broken down.
The Glenachulish got into difficulty after returning to duties on Loch Carron in Wester Ross following repairs at the weekend.
On Thursday afternoon, it was slightly damaged after running aground at North Strome.
The latest problem has come just hours ahead of a visit to the area by Transport Minister Keith Brown.
The vessel had resumed work at 07:00 and was out of action by about 09:00 after suffering a mechanical problem.
Highland Council said it was unclear at this stage how long it would be before the ferry was able to return to its duties.
The Glenachulish was introduced after the A890 was shut on 22 December by landslides.
The A890 helps to connect Lochcarron to Plockton, and its high school, and eventually with Kyle, on the opposite site of Loch Carron.
The road runs across the top of the sea loch to link up with the A896, the main road to Lochcarron.
To make the journey by road at the moment involves drivers having to take a 140-mile (225km) diversion, instead of the usual 18 miles (29km) from Lochcarron to Plockton.
The small car ferry has been running between North and South Strome since January.
The 40-year-old craft can take six cars at a time and is the last manually-operated turntable ferry in Scotland.
From spring to summer the Glenachulish operates out of Glenelg and crosses the Kylerhea straits between the mainland and Skye.
Highland Council said: "Unfortunately, the ferry suffered a mechanical problem after 9am and will not run for the rest of the day.
"Due to high winds, the A890 at the landslip area - currently closed - cannot be opened to convoy vehicles through the site.
"The passenger ferry continues to run and buses are being organised to take people from the ferry slipways to Kyle-Lochcarron.
"In addition the train will continue to operate with connecting buses at Strathcarron."