Cardboard rolls aid Dounreay clean-up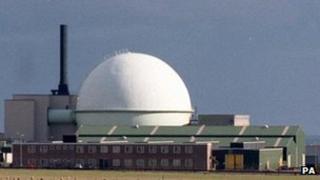 Cardboard tubes inside rolls of paper towels have emerged as a solution to a problem operating a piece of equipment used to treat radioactive waste.
The sludge mixer stirs radioactive material dredged from the Dounreay Fast Reactor in Caithness, with cement, inside 200 litre steel drums.
Workers were having difficulty fitting the machine's motor drive to the spindle of its mixing paddle.
They have been using the tubes to make it easier to access the spindle.
By cutting the cardboard rolls into equal sized pieces they have been able to raise the paddle off the bottom of the drums.
The spindle can then be easily reached because it pokes above the top of the drums.
The cardboard easily squashes down and mixes with the sludge and cement without risking any damage to the device.
Dounreay worker Ross Murray came up with the idea to use the cardboard rolls, the latest in a series of household items used in the £2.6bn clean-up of the plant.
Domestic cleaning product Cillit Bang has been used to help clean plutonium stains.
A design engineer at site also used the castors off his own living room couch to stop a machine dubbed the "hedgehog" from toppling over.
The device was built to probe radioactivity levels and shoot video inside Dounreay's Prototype Fast Reactor.
In tests, the device kept toppling over when turning corners.
However, senior design engineer Calder Bain used the castors to stabilise the machine.