Deer culls aggressive Scottish Gamekeepers Association says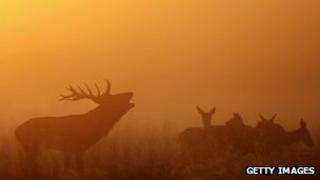 Deer culls in the name of conservation are "aggressive" and harm populations that support sporting estates, a gamekeepers body has said.
The Scottish Gamekeepers Association suggests culls in parts of Sutherland are so excessive they threaten the economic stability of shooting estates.
The Link Deer Task Force, which includes conservation charities, said wild deer had to be controlled.
It said culls were not excessive and protected natural habitats.
A research paper on culls will be presented to a SGA conference in Inverness.
It suggests continued "hefty" culling in Sutherland to meet conservation objectives remove too many deer and could seriously affect the economic stability of the area.
The report's author Peter Fraser said Scotland was devastating one of its greatest wildlife assets.
He said over-ambitious and ill-thought-through forestry and conservation projects were examples of why excessive culling took place.
SGA estimate the economic value of stalking, shooting and freshwater angling to the Scottish economy as £200m a year.
However, the Link Deer Task Force said native red and roe deer numbers in some areas were at record highs.
The organisation also involves RSPB Scotland, John Muir Trust, National Trust for Scotland and Scottish Wildlife Trust.
Chairman Duncan Orr-Ewing said: "Deer are not subject to 'aggressive over-culling' on our properties, as wrongly suggested by the SGA.
"Due to the removal of natural predators, deer management is required to meet a range of land management objectives, including sporting, conservation, protection of woodlands and public safety.
"High red deer populations in some areas of Scotland are causing substantial damage to the natural heritage, and it is a legal requirement on landowners to improve the quality of certain habitats which are of international importance."