Strome car ferry ran aground briefly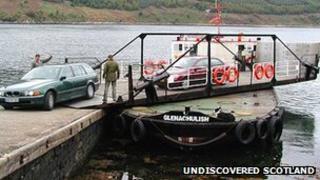 A car ferry that has been helping to ease travel in part of the Highlands after a road was shut in December ran aground briefly, it has emerged.
Witnesses said the small vessel's engine cut out and it struck rocks near the slipway at North Strome in Wester Ross.
All cars and passengers onboard were able to get off safely after the crew managed to free vessel.
The Glenachulish was introduced after the A890 was shut after landslides.
From spring to summer it operates out of Glenelg and crosses the Kylerhea straits between the mainland and Skye.
It was introduced as an emergency measure on Loch Carron after the A890 was shut on 22 December. The road remains closed.
The small community-owned car ferry has been running between North and South Strome since January.
The 40-year-old craft can take six cars at a time and is the last manually operated turntable ferry in Scotland
The incident happened at about 13:28.