Disney/Pixar link up with VisitScotland a tourism 'first'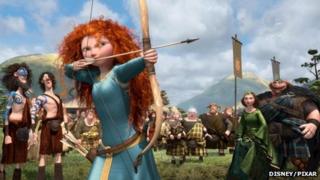 A global marketing campaign promoting Scottish tourism is to be based around the launch of Disney/Pixar's forthcoming animated film, Brave.
VisitScotland's £7m campaign will be its biggest yet and the first time that Disney has linked up with a country's tourism organisation on such a scale.
Set in the Scottish Highlands, Brave is to be released in August 2012.
It has characters voiced by Billy Connolly and Kelly Macdonald and a song by Gaelic singer Julie Fowlis.
Formerly called The Bear and the Bow, the film follows Merida, an impetuous girl who defies an age-old custom and inadvertently unleashes chaos, forcing her to discover the meaning of true bravery before it is too late.
The film's makers visited Scotland as part of their research for the story.
Director Mark Andrews told the latest edition of Empire film magazine that he was a Scottish history "buff".
In December last year, VisitScotland chairman Mike Cantlay told the BBC News Scotland website that Brave could help boost Scotland's tourism during difficult trading times.
Announcing the tie-up with Disney, he said: "This is an incredible opportunity to extend the reach of VisitScotland's marketing activity across the world.
"This film will be shown in more than 70 countries across the world and will give us the opportunity to convert cinema goers into visitors in the biggest campaign VisitScotland has ever launched.
"There are very few tourism destinations that get to work so closely with the world's largest entertainment companies - and this gives us an unprecedented opportunity to put Scotland on the worldwide stage with a whole new audience."
Tricia Wilber, of the Walt Disney Company, said: "Brave takes its inspiration from the majesty and mystery of Scotland, and features the voices of many much-loved Scottish stars.
"So it's fitting to create a global campaign with VisitScotland to further bring to life the iconic Scottish landscapes and folklore that inspired the film."
Scots actress Macdonald provides the voice for Merida, while Robbie Coltrane voices a lord called Dingwall - the name of a town in Ross-shire in the Highlands.
Connolly, Kevin McKidd and Craig Ferguson also star.
A Gaelic song by Dingwall-based singer Julie Fowlis also features and can be heard on the film's full-length trailer.
Called Tha mo ghaol air àird a' chuain - My love is on the high seas - it a track from the singer's first album Mar a tha mo chridhe.
Lanarkshire-born musician and composer Patrick Doyle has composed Brave's musical score.