Scotland helps UK up Ernst & Young renewable energy list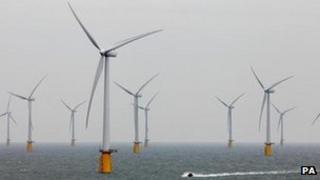 Projects in Scotland have helped the UK climb to fifth on a list ranking the potential renewable energy markets of 40 countries.
The UK had been sixth on Ernst & Young's quarterly Renewable energy country attractiveness indices.
Announcements on what has been described as the world's largest offshore wind farm and also marine projects helped the UK's score.
China tops the list, followed by the US, Germany and India.
Italy has dropped from fifth to sixth spot.
In its latest report on the rankings, analysts at economists Ernst & Young said an announcement last year on a £4.5bn 1,500 megawatt (MW) wind farm off the Caithness coast helped push the UK up the ranking.
Moray Offshore Renewables is expected to submit a planning application in July, according to the report.
The developer has said that once completed, the project would be the largest offshore wind farm in the world.
In England, a seven-year £150m loan for the 300MW Thanet offshore wind farm off Kent and the go-ahead for a £120m wood-fuelled plant in Yorkshire also played a part improving the UK's score.
Ernst & Young also reported on other activities in Scotland.
Analysts said First Minister Alex Salmond had provided "further good news to the industry" by announcing that the Scottish government would create an £18m fund to help develop Scotland's first commercial wave and tidal power projects.
Another development was a plan by SSE and French partner Alstom SA to construct a 200MW wave power plant off Orkney.
Ernst & Young said economic uncertainty across the Eurozone had affected the rankings of countries such as Italy.