'Progress' in finding Boat of Garten new homes solution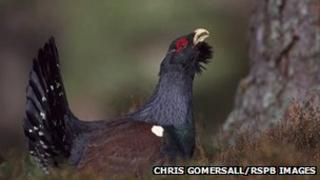 A working group has said "progress" has been made in finding sites for new homes at a village in the Cairngorms without harming birds.
The park's planning committee voted 11 to five against plans for 72 homes at woodland in Boat of Garten last year.
There were concerns rare capercaillie would be disturbed by the development which had support from some villagers.
The park authority agreed at the time to look at where homes could be built without seriously affecting wildlife.
A working group was set up involving members of the community, the main landowner, Cairngorms National Park Authority (CNPA), Highland Council, a housing association and Scottish Natural Heritage (SNH).
CNPA sustainable rural director Murray Ferguson said: "We want to help find a solution that allows some new affordable houses to be built, for people to continue enjoying the woods and for the capercaillie to thrive.
"We've been working closely with the community about how they use the woods and what management measures they could support.
"We've proposed a practical set of measures to reduce the impact of existing recreational use on capercaillie to ensure their ongoing protection."
Working group chairman, Highland councillor Stuart Black, said he was confident new homes would eventually be added to the village.
He said: "We are making real progress here and I believe by the spring some of these measures will have been agreed and in place which should remove some of the barriers to getting affordable homes built for people in Boat of Garten.
"There's still a long way to go and there will be further obstacles to overcome but with the backing of the research that has been carried out and a community as committed as Boat of Garten is, I'm confident we will see some affordable homes built in the village."
Revised plans
The Cairngorms National Park is home to about 80% of the UK population of capercaillie, according to CNPA.
Before its vote in November last year, the planning committee had deferred making a decision on Davall Development's proposals.
The firm had been asked to come back with measures to reduce the project's impact on natural habitats.
But park officials said the revised plans still posed a threat to rare wildlife such as capercaillie.
They recommended that the planning committee refuse the application.
In a report, park planning officers said they were aware of the strength of feeling in Boat of Garten about the need for more affordable housing.