New training plan for Highlands and Islands firefighters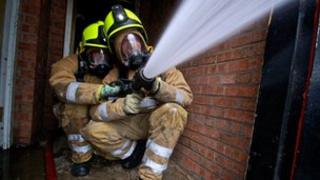 All firefighters in the Highlands and Islands are to have training that meets national standards, according to the area's fire service.
Concerns had been raised in an audit and by staff about the running of Highlands and Islands Fire and Rescue Service (HIFRS).
Service bosses met with the fire board and unions to discuss a way forward.
HIFRS said a comprehensive plan will be put in place to ensure all its firefighters have appropriate training.
Last week, Grampian's chief fire officer raised his concerns about safety, training and organisational failings at HIFRS.
David Dalziel is leading an operational audit of the service that covers the Highlands, Western Isles and Northern Isles.
In a letter to HIFRS chief officer Trevor Johnson, he said the failings were "systemic" and "deep seated".
He said the enormity of the challenge facing the service exceeded anything he had come across in his career.
Firefighters had earlier passed a vote of no confidence in senior management.
HIFRS said the meeting with fire board members and unions had been "very positive and productive".
Deputy Chief Fire Officer Stewart Edgar said: "Our efforts are being concentrated on community and firefighter safety.
"This training programme will ensure that the firefighters across the region achieve the national standards, which will ensure that they provide the highest standard of emergency response services to the communities of the Highlands and Islands, and help make the Highlands and Islands a safer and better place to live, work and visit.
"We are very encouraged by the direction of travel and the engagement with the board and our trade unions."
'Greater co-operation'
Calum MacNeill, brigade chairman of the Fire Brigades Union (FBU) said union officials were encouraged by an assurance that a threat of station closures and suspensions would be lifted.
He added: "We also welcome the strategic direction that the board is now pursuing putting the focus firmly on the safety of our members and the communities they protect.
"It was extremely encouraging that several councillors called for greater inclusion of the FBU in future consultation meetings, and we look forward to greater co-operation moving forward."