Job vacancy on UK's 'lost world' of St Kilda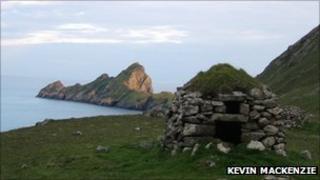 The National Trust for Scotland (NTS) has sought to fill a job in one of the remotest corners of the UK.
An archaeologist is needed on St Kilda, a group of small islands 41 miles (66km) west of the Western Isles.
In the job advert, NTS said applicants must be able to work alone on occasions in a "remote environment".
The trust also asked that they be physically fit as the role required "considerable crossing of remote, rugged terrain in all weathers".
NTS added: "Vehicular access to many parts of the island is not possible or appropriate for conservation reasons."
The main island of Hirta is rich in archaeology dating back to prehistoric times.
Last year, the remains of a permanent settlement which could date back to the Iron Age were uncovered on the smaller island of Boreray.
It was previously thought that it was only visited by islanders to hunt seabirds and gather wool from sheep.
Hard winter
However, archaeologists recorded an extensive agricultural field system and terraces for cultivating crops.
They also found an intact stone building buried under soil and turf.
Hirta's last 36 residents abandoned the island in August 1930 following years of depopulation and a succession of deaths during the previous winter.
Since then, St Kilda has been described as a "lost world".
But summer months can see as many as 35 people living on Hirta.
They are a mix of staff from NTS, Ministry of Defence workers and contractors who run a radar station, volunteers and scientists.
In 2010, a writer and historian suggested that descendants of people evacuated from St Kilda 80 years ago should be given a chance to repopulate the islands.
Iain Thornber, from Morvern, said scientists could be among those who could live year-round on the archipelago.