Lochaber river salmon restock trial 'positive'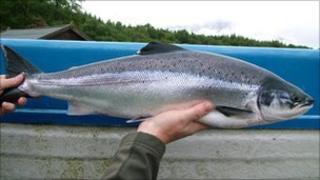 A project to raise numbers of wild salmon in a Highlands river has come to the end of a three-year trial.
Salmon farming giant Marine Harvest has been working with the local angling association on the restocking of the River Lochy in Lochaber.
The organisations said the trial has had "positive results" and there are plans to release more salmon smolts.
The scheme has seen the release of about 54,000 farm-raised fish into the river so far.
There has been a long running effort to improve stocks in the short and relatively shallow river near Ben Nevis.
Numbers of salmon caught have increased from 32 in 1998 to 1,500 in more recent years.
Last year, salmon of up to 20lbs in weight were caught.
The average weight in June is more than 16lbs. May to July is when some of the largest salmon are caught.
Fish for the restocking project are raised at a Marine Harvest farm in Loch Arkaig.
Egg increase
The released smolts have a fin clipped for identification purposes.
From the river they almost immediately swim out to sea before returning to breed one to two years later.
Marine Harvest said releasing the fish at the smolt stage meant they did not compete for food with the fish bred and reared in the river itself.
The River Lochy Association said its monitoring has shown that the numbers of eggs laid by female salmon for fertilisation in the river had increased by almost one million per annum over the trial.
Also, an extra 400 spawning salmon had returned each year and the rod catch in the River Lochy had risen.
Jon Gibb, association hatchery and restoration manager, said 200 visiting anglers and 250 local people were now fishing on the river each year.
He said: "Our project with Marine Harvest is one of the most forward thinking and positive currently taking place in the wild/farmed arena in Scotland.
"I have watched the aquaculture industry develop over the years and I believe the time has come for the industry and wild salmon interests to properly work together."
Ben Hadfield, Marine Harvest Scotland production manager, said the project was innovative.
The company is also involved in a project to restock the River Shiel in collaboration with the river's owners.
Last year, a study by angling associations suggested fewer wild salmon were caught by rod on Scotland's west coast than on the east.
The bodies, including the Rivers and Fisheries Trusts of Scotland, said fish farming was a factor behind the fall.
They said that between 1970 and 2009, catches in the west had declined by 42% but increased by 38% in the east.
Scottish Salmon Producers' Organisation research suggested there was no difference in declines on the coasts.
The west of Scotland has large numbers of salmon farms, while the east has none.