Liam Aitchison comments caused 'considerable offence', Ofcom says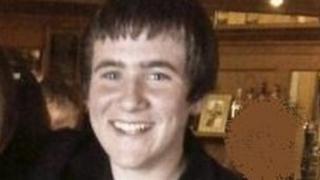 Broadcasting watchdog Ofcom has said comments made on a Channel 5 show about the police probe into a teenager's death caused "considerable offence".
Liam Aitchison's alleged murder on the Western Isles last year was raised in a newspaper review on The Wright Stuff.
Host Matthew Wright put on a Scottish accent and said "there's been another murder", copying a phrase from detective show Taggart.
He later apologised on air and in a letter to the 16-year-old's parents.
Wright also spoke with the Aitchisons and they accepted his apology.
Ofcom, which launched an investigation after receiving about 2,220 complaints about the programme, said the matter had been resolved.
Liam's alleged murder - the first in about 40 years on the Western Isles - came up during a news review on The Wright Stuff.
It said it had noted Wright's comments made in a Scottish accent and panelist Charlie Baker's subsequent response, which was: "The longest episode of Taggart of all time. There's lots of down-time in between".
Briefing exercise
The watchdog said the remarks were "clearly capable of causing offence" to viewers given the sensitivity surrounding Liam's death.
Ofcom said it had taken account of the fact that The Wright Stuff was a live programme and comments made by Wright and Baker during the news review were unscripted and made spontaneously.
It said Baker's remarks were made in response to a comment by Wright, which according to Channel 5 was unexpected to the production team and to Baker, given the briefing exercise before the programme started.
The watchdog added: "Ofcom recognises that the comments caused considerable offence, particularly to viewers in Scotland.
"On balance, however, and in light of the steps taken by Channel 5 to mitigate this offence, Ofcom considered the matter resolved."
Two men have appeared in court charged with Liam's murder.