'Shocking' amount of rubbish near Arisaig wind turbine site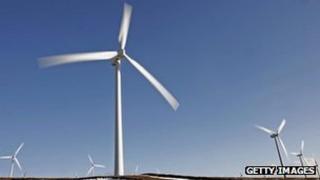 A planning official looking into complaints about the visual impact of planned wind turbines said rubbish near the site posed a greater threat.
The Scottish government-appointed reporter said there was a "shocking amount" of litter on a coastal strip between Arisaig and Mallaig.
He said this was likely to be a more serious deterrent to tourists than three proposed turbines.
The reporter has refused permission on development plan policy grounds.
He said the applicant might be successful if they made a fresh submission supported by adequate information about potential noise from the turbines planned for a site near Arisaig.
The applicant had appealed to the Scottish government following Highland Council's refusal of the planning application.
In his report, the reporter noted that the 21m (69ft) tall machines were of a design said to be quieter than existing devices.
However, he said there was no details in the application about whether they would become quieter as the components bedded in, or more noisy as they became worn.
'Systematic clear-up'
The scheme's visual impact was not deemed to be a serious concern.
The reporter said the location was in an Area of Great Landscape Value (AGLV), but there were other developments near the site such as overhead power lines to houses and businesses.
Later in his report, he said: "Deterrence of tourists is a recurrent concern in submissions against the scheme.
"However, observations at the site inspection suggest that rather than a close group of three 21m wind turbines in one of the more developed and visually compromised parts of the coastal strip between Arisaig and Mallaig, a much more serious deterrent to tourists' coming again is likely to be the shocking amount of rubbish."
He said the litter was mostly plastic and would remain on the shoreline unless it was "subjected to systematic clear-up campaigns before and during the summer holiday season".
"There is no compelling indication that important wildlife would be significantly at risk from the turbine blades or deterred from using local habitats," he added.