Bristow Helicopters to take over Sumburgh and Stornoway roles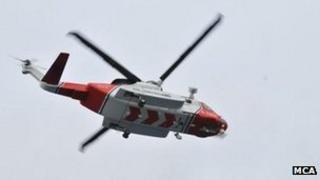 CHC Helicopters has lost the search and rescue contract for coastguard bases at Sumburgh on Shetland and Stornoway in the Western Isles.
In a statement, Bristow Helicopters said it would take over the service from 2013 to 2017.
The contract runs until the long term future of search and rescue is secured.
After 2017 the military role in search and rescue will cease and a new civilian contract involving 10 bases across the UK will come into force.
The RAF and Royal Navy, who have for years provided search and rescue cover, are to give up the role in 2016.
Companies have also been bidding to run Maritime and Coastguard Agency helicopters after 2017.
Bristow will take over the short-term coastguard contract from July 2013.
It will use Sikorsky S-92 helicopters, which already fly out of Sumburgh and Stornoway.
Director Mike Imlach said the company was looking forward to providing an "important service from the Scottish islands".
He added: "As we take over the service, Bristow will work closely with the current operator to ensure that staff eligible for transfer, achieve a smooth and seamless transition during this organisational change."