St Kilda vampires comic book sucks in film interest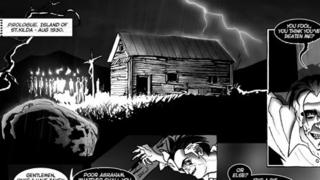 The evacuation of a remote Scottish archipelago in 1930 has been linked to a vampire infestation in a new comic book which could be turned into a film.
Glasgow publisher BlackHearted Press's School of the Damned opens on St Kilda during the month of the evacuation.
The islands group lies 41 miles (66km) west of the Western Isles and is owned by the National Trust for Scotland.
Mandragora Productions/Invictus Films, which also operate from Glasgow, have a film option on the comic book story.
School of the Damned by John Farman, Jim Devlin and Dave Alexander is described as a horror and gothic romance.
The story begins on St Kilda and tells of a vampire infestation sparking the evacuation of Hirta, the main island in the archipelago.
In reality, 36 St Kildans abandoned Hirta in August 1930 following years of depopulation and also deaths that occurred during a hard winter in 1929.
Log book
In the St Kilda school log book, teacher Dugald Munro's final entry reads: "Attendance perfect for the last week.
"Today very probably ends the school on St Kilda as all the inhabitants intend leaving the island this summer.
"I hope to be away soon."
An earlier entry details one pupil, Donald Gillies, not turning up for class because he was helping to shear sheep.
There is no mention of vampires in the historic log.
Mr Farman said he was excited but "cautiously optimistic" of the comic book being made into a film because of the lengthy processes involved.
Marc de Launay, director and producer at Mandragora, said he was working with two Los Angeles-based producers on a plan for a live action version.
He said there was also the possibility of it and another of BlackHearted Press's comics, Children of the Damned, being made into an animated film involving Arcus Studios.
The Gateshead-based company's portfolio includes animations for CBBC and E4.
Mandragora produces feature length and short films and Mr de Launay's script for a feature called Contorted Hazel was selected for the Bafta Rocliffe New Writing Forum at last year's Edinburgh Film Festival.
Mr de Launay said: "Mandragora Productions/Invictus Films have struck a live action film option for School of the Damned.
"I'm currently working with two LA producers who are very excited about it - one got a green light from Paramount on a graphic novel property he had last year - and we have a first-look deal with a major studio in LA.
"This script process is likely to take at least a year, of course, so early stages as yet."
He added: "Also we have the option to develop an animation project for TV, the web or film for School of the Damned and also Children of the Damned.
"We're really excited about these prospects and the LA producers have said that an animated feature may be another way forward.
"Again all these things take a lot of time and effort."
Royal Navy
He said: "We've had to look internationally to fulfil the potential in terms of moving images as it seems few broadcasters recognise the potential within the narratives of the dynamic and thriving Scottish comic scene."
People had lived on St Kilda since prehistoric times.
But life there was challenged by bad weather, disease and later a dependency on links with mainland Britain.
Smallpox in the 1720s killed almost 200 St Kildans.
Among the few survivors were three men and eight boys who had been stranded on a sea stac for nine months after a boat failed to collect them following a seabird hunt.
Landlord MacLeod of Dunvegan moved tenants from Skye and Harris to the archipelago in an effort to repopulate it.
In the 1850s, 42 St Kildans emigrated to Australia, half of them dying on the way.
During World War I, a Royal Navy detachment to Hirta brought the previously unheard of benefits of regular mail and food deliveries.
However, the end of the war and withdrawal of the unit reinforced a feeling of isolation among the community.
The winter of 1929 was so hard some inhabitants died.
The remaining 36 islanders wrote to the government asking to be taken off and start a new life on the mainland. Hirta was abandoned the following year.
Today the islands have Unesco World Heritage status.