Russian warships sail off English and Irish coasts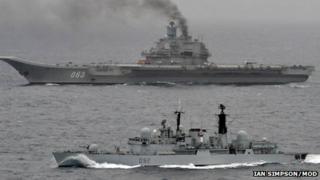 Russian warships which sparked a row about waste being dumped overboard into a Scottish firth have reappeared off the UK coast.
In December, aircraft carrier Admiral Kuznetsov, a destroyer, two frigates and support ships sought shelter from bad weather in the Moray Firth.
Moray SNP MP Angus Robertson raised concerns about rubbish being thrown into the sea from the vessels.
The task group has now sailed past south west England towards Ireland.
Portsmouth-based HMS Liverpool, which is due to decommission in March, has been shadowing the vessels.
The ships' appearance in December was the closest a Russian naval task group had come to the UK coast in 20 years.
The elements of Russia's Baltic Fleet were shadowed at the time by HMS York.
Shortly after their arrival in the Moray Firth, Mr Robertson said he had no problem with the crews seeking shelter from the weather but was concerned by reports of waste being thrown overboard.
The MoD said the rubbish was most likely to have been waste food, which they were allowed to dump provided there was no plastic in it.