Clan chief speaks out in Barra conservation area row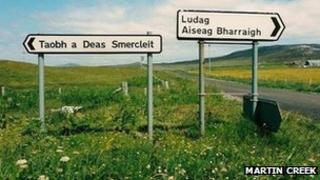 A clan chief has accused ministers and Scottish Natural Heritage of ignoring concerns about a proposed marine special area of conservation (SAC).
The Sound of Barra SAC would give protection to habitats and species such as harbour seals and seagrass.
Rory MacNeil, chief of Clan MacNeil of Barra, said locals had worked with the environment for hundreds of years.
The Scottish government said there has been consultation about the proposed SAC and no decisions have been taken.
Islanders have raised concerns that the designation would restrict access to fisheries and damage the Western Isles' economy.
Western Isles SNP MSP and Minister for Gaelic, Alasdair Allan, said opposition to the SAC would be made "very clear" at a Holyrood debate on Wednesday.
Mr MacNeil, a venture capitalist based in Edinburgh, told BBC Alba that the SNP had followed a previous Labour government in proposing the SAC.
But he said: "I don't think it has anything to do with if it is the SNP or Labour.
"The fundamental issue is the same - they are not listening to the people in the area, the people who have been living very happily with the environment for hundreds of years.
"They are not respecting their ability to take care of the environment.
"Instead both Labour and SNP governments have decided to let a bureaucratic entity run wild and in effect upset what is a very natural existing system."
Mr MacNeil became clan chief in 2010 following the death of his father Iain MacNeil, who was 80. The late Mr MacNeil taught a young Barack Obama a course on contract law while a visiting professor at Harvard Law School.
'Caused grievance'
Ahead of Wednesday's debate in the Scottish Parliament, the Conservatives and Labour have put forward motions against the designation.
The motions have support from Liberal Democrats and independents.
Mr Allan said he would be making clear his opposition to the designation during Wednesday's debate.
He said: "The whole process around these designations, which exist under the European Habitats Directive, has clearly caused grievance in Barra.
"The process legally excludes the community from having anything other than scientific arguments considered - meaning the whole argument about the fragility of the island economy is sidelined.
"I believe more recognition needs to be given to the fact that the Western Isles has the environment it does because generations of islanders have used it responsibly."
He added: "For over three years I have been arguing as local MSP that the designation serves no useful purpose but has caused real anxiety locally."