Water voles found high on a hillside in Wester Ross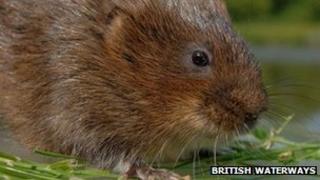 Rare water voles have been found thriving on a patch of grassland not much bigger than the size of a dining table 700m (2.296ft) up a hillside.
Scottish Natural Heritage (SNH) said the mammals were usually found at lower levels along the edges of burns, rivers and ditches.
The hillside voles were recorded during a survey of the Beinn Eighe National Nature Reserve in Wester Ross.
The voles would have had to travel across rocky terrain to reach the site.
The survey was carried by Highland-based consultants Waterside Ecology.
Dr Lorna Brown, who led the team, said: "We found signs of 19 different water vole colonies across the reserve, and it seems that the population on Beinn Eighe is in good health.
"One colony was living in a small patch of grassland the size of a dining table nearly 700m metres up the mountain.
"The voles would have had to travel hundreds of metres over rocky terrain to search this out."
She added: "These tiny colonies might just consist of one female and her offspring, and adults rarely survive to breed two years in a row, so it is vital for the voles to move around to find mates and re-colonise these scraps of good habitat."