Scottish communities could 'appraise' nature's services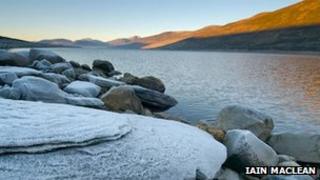 Communities could be encouraged to make their own assessments of the direct benefits they get from nature.
A toolkit has been developed as a guide to understanding the landscape and what are called ecosystem services and how they are affected by climate change.
"Services" include natural processes that provide food and fuel, purify air, enrich soils and prevent floods.
Scottish Natural Heritage (SNH) and Highland Council plan to run pilots in the Highlands using the toolkit.
The move follows two years of research work which involved communities in Nairn and Dumfries and Galloway and examined their attitudes to climate change.
In a report, SNH has proposed running the pilots between April and July this year.
The agency said this would allow "maximum engagement" around school holidays, changing weather patterns and the tourist season.
Ecosystem services also include recreational benefits that can be drawn from landscapes.
Drier summers
Earlier this week, an SNH-commissioned report warned that some of the landscapes people seek to enjoy could change markedly over a short space of time as a result of increased rainfall and storms.
The report said forests, moors and peat bogs could be among habitats under the greatest pressure.
Trees in towns and cities could also be lost to extreme weather conditions.
The report, An assessment of the impacts of climate change on Scottish landscapes and their contribution to quality of life: Final report, has been published by SNH.
The public agency commissioned Land Use Consultants to carry out the research.
In the report's executive summary, the consultants summed up the positive and negative impacts of warmer and drier summers.
Landmark historic trees could also be lost to storms.