Comics 'not just for superheroes'
By Steven McKenzie
BBC Scotland Highlands and Islands reporter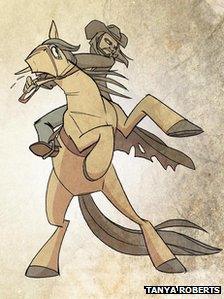 "Comics aren't just about the superhero," says Edinburgh illustrator Tanya Roberts.
"It's a brilliant way to tell a story and it grips people like no other medium can."
Roberts has provided artwork for Star Wars: The Clone Wars, Toy Story and Strawberry Shortcake comic book stories.
The artist describes her way into comics as "through a sideways door".
Roberts said: "Growing up, I would just draw illustrations inspired mainly by the animated movies I watched.
"So I moved to go into the animation industry, but when the 2D industry folded like a pack of cards I didn't know what to do.
"It took a friend to steer me in the direction of comics. That made me realise that I was pretty much just drawing comics the whole time, so it just fitted.
"I got my first gig four years ago drawing Star Wars and I never looked back."
However, the economic climate has cast a Darth Vader-shaped shadow over Roberts' industry and has influenced the way in which she operates.
The internet has been one area to offer a new hope to the illustrator and others in the business in uncertain times.
Roberts said: "Many of my fellow comic artist/writers are switching to online publicity now, that is to say generating interest through webcomics without even printing hard copies anymore.
"It's very difficult to get a creator project published in these hard times.
"No-one really feels confident to take a chance, and I don't blame them, but creators are taking their own steps to self publish their stuff."
Roberts added: "Comics are going digital and I, for one, welcome it.
"I collect trades (collections of comic book stories) but I also read online comics. It's the future and we can't fight against it.
"I think it might help a lot of people who had their comics turned down by the publishing houses, especially the new writers."
Another artist who is keenly aware of the opportunities online offers artists and writers in getting their work out to the wider world is Vicky Stonebridge, who lives in Lochcarron in Wester Ross.
She has been working on gothic horror anthology Bayou Arcana.
Stonebridge said comics and graphic novels had provided her with an outlet for her passion for a particular style of art for telling stories.
She said: "I had nearly given up painting or drawing the subjects of myth, folklore, ancient history, epics and traditional symbols and motifs.
"They generally get the labels of 'kitsch', fantasy art, or children's illustrations."
The artist added: "For me art is all about communication, is essence conveying a message or telling a story through an image, comics are a natural extension of this, a combination of words, symbols and pictures to carry a story and transport the reader to infinite imagined worlds."
Stonebridge's artwork has also been influenced by issues such as climate change and increased use of renewable energy.
One of her graphic prints - which shows a young girl's journey through a flooded Scotland - featured in an exhibition last November involving the University of Dundee.
The university offers a MLitt in Comics Studies, the only programme of its kind in the UK.
Called G'ie Me A Spark O' Nature's Fire, the exhibition was staged in the Scottish government's European Union office in Brussels.
The Belgian city was an appropriate choice for showcasing Scotland's comic book artists and writers.
In Belgium and neighbouring France millions of comic books and graphic novels are sold and tell stories about almost everything from detectives, pirates and cavaliers to the American Civil War, cowboys and aliens.
Canterbury-based Cinebook publishes many of these books in English.
By the end of this year, its catalogue will stretch to 228 titles, including books by Rene Goscinny - co-creator and writer of the Asterix series.
Valerie Robin, of Cinebook, said: "The comic book and its close relative, the graphic novel, are a highly respected art form in France, Belgium and the rest of Western Europe.
"In fact, one of every eight books sold in France is a comic book."
Related Internet Links
The BBC is not responsible for the content of external sites.