Chances of seeing Northern Lights dim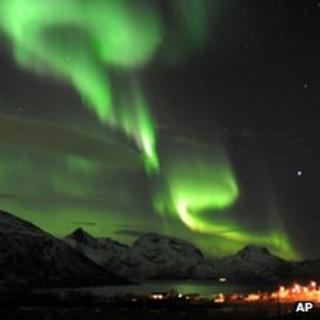 The effects of the strongest solar storm since 2005 are lessening, according to space weather experts.
One effect - the Aurora Borealis also known as the Northern Lights - could be seen earlier this week further south than usual due to the storm's strength.
British Geological Survey Space Weather reported it would be "quiet" over the next 24 hours as the effects of the geomagnetic event were "on the wane".
Spaceweather.com said the storm was now over.
It said the Northern Lights were only likely to be seen at highest latitudes around the Arctic Circle.
AuroraWatch UK has also reported no significant activity following stunning sightings of auroras earlier this week.
Some of the best views of the Northern Lights were from sites in Scotland.
The geomagnetic storm was caused by a flare that erupted from the Sun at 0400 GMT on Monday.