Glossy ibis in rare appearance on Eigg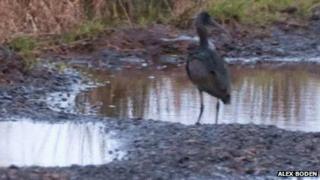 Birds more commonly seen in southern Europe and Africa have made a rare appearance in Scotland.
Six glossy ibis have been seen on the island of Eigg, one of the Small Isles south of Skye.
The Scottish Wildlife Trust (SWT) said it was the first time the waders had been recorded on the island.
SWT ranger John Chester said it was mystery where the birds had come from. He said one of the ibis had a ring on its leg, which may provide clues.
Mr Chester said: "We're not sure as yet where these birds originated from, though it seems that it could be Spain or France.
"However, as one of them is ringed we'll hopefully be able to obtain more information on this.
"Why exactly they've turned up on Eigg, especially in such a wild and wet winter, is a real mystery but they certainly seem to be having no trouble finding food in the heavily-flooded marshes."
Meanwhile, the John Muir Trust said red squirrels may have moved into a part of the Highlands where they had not been seen previously.
The trust's Nevis conservation officer Lewis Pate found a hazelnut shell with tell-tale signs it had been split by a squirrel in Steall Gorge in Glen Nevis.
He said: "The only animal that can do this is a red squirrel and, while we have never observed any reds in the gorge, it is reasonable evidence of their presence despite the habitat not being particularly suited to them.
"Reds will feed on birch catkins but they tend to prefer cone bearing trees such as Scots pine, of which there are a few scattered about, although not very many for a sustainable population of squirrels."