New book challenges ideas about Norse invaders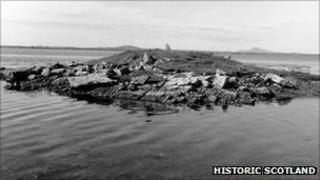 A new book challenges a traditional view that the Norse period on the Western Isles was marked by violence and slavery.
From Machair to Mountains supports an idea that the Norse intermixed with islanders to a greater degree than has been previously accepted.
The book examines ancient settlements found preserved under sand dunes.
Sites include Neolithic tombs and Norse dwellings.
Culture Secretary Fiona Hyslop has welcomed the new publication which features 20 years of research work.
She said: "The findings show that these remote locations were attractive to human inhabitants from the earliest times and that communities have successfully survived here for thousands of years.
"The project has added substantially to our understanding of the history of the Outer Hebrides and western Scotland."
'Treasure trove'
The book's editor Prof Mike Parker Pearson said sand dunes on South Uist had preserved archaeological sites from all periods of human occupation of the islands, including roundhouses.
Prof Parker Pearson said: "These structures were built as part of a terraced row and exhibit a marked discontinuity with the past, by replacing the boat-shaped island-style of house with the pan-British large roundhouse.
"This shift was as much ideological as economic, and sees the arrival of the sun-wise arrangement of interior activities around 1100BC."
Historic Scotland's head of archaeology programmes, Rod McCullagh, said the findings on South Uist represented a "treasure trove of new knowledge".
He said: "The sites compare very well with almost any of the settlements of similar age anywhere in Europe outside Rome and the Aegean."
The book has been published by Oxbow Books in conjunction with Historic Scotland.