Aviemore Sled Dog Rally takes place on snow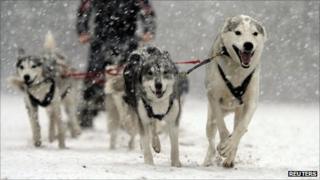 About 1,000 dogs will compete over snow in Britain's biggest husky race, in the forests around Aviemore over the weekend.
Last year, three-wheel rigs had to be used in the Aviemore Dog Sled Rally because snow that had fallen earlier had thawed.
Adults can race over a course stretching to seven miles (11km) through Glenmore Forest Park.
There is also a two-mile (3km) course for young racers.
Organised by the Siberian Husky Club of Great Britain, the rally runs on tracks around Loch Morlich.
Alaskan Malamutes, Samoyeds, Greenland Dogs and Canadian Eskimo Dogs take part in the rally, alongside Siberian huskies.
The racing ends on Sunday.