Roads projects planned for the Highlands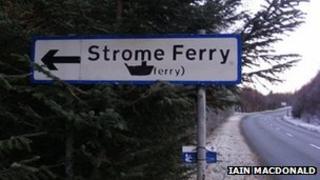 Several major roads projects are being considered by Highland councillors.
A bridge across the Strome Narrows, a new bypass and avalanche shelters have been mooted as solutions to problems affecting the A890 in Wester Ross.
The road that helps to link Kyle with Lochcarron has been shut since 22 December after a landslide.
Highland Council has said it will also spend £2m on repairs to roads damaged by winter weather. A bypass has also been suggested for Thurso.
Caithness councillor David Flear said the bypass was needed to direct traffic headed for Scrabster harbour away from Thurso town centre.
A long-term solution to problems affecting the A890 could cost between £40-70m.
They include a road bridge across the Strome Narrows, or constructing a new bypass to replace the existing one which has been affected by a series of landslides in recent years.
Extending an existing avalanche shelter on the A890 has also been suggested.
Highland Council said the road could open fully again on 17 February.
SNP councillors have said the local authority's efforts to repair damaged roads could be undermined by job cuts in the roads department.
Drew Hendry, leader of the council's SNP group, has attacked the ruling administration's decision not to fill 17 vacant posts.