Start date for year-long Harris lifeboat trial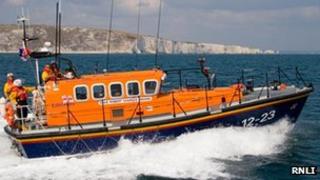 A lifeboat will be introduced on Harris in the Western Isles for the first time on 11 May, the RNLI has said.
Twenty-one volunteers have come forward to crew a Mersey class vessel during a trial that could last three years.
Based in Leverburgh, the boat will cover an area of sea which presently takes crews from the nearest station on Lewis two hours to reach.
The RNLI will gauge the success of the trial before consideration is given to setting up a permanent station.
The trial would last for a minimum of 12 months, the RNLI expect it to last for up to three years.
Scotland's last new lifeboat station was created on Loch Ness in 2008.
A local campaign had called for a boat and crew for Harris.